Mars Hydro TS-Series ~ LED Grow Lights
Description

Mars Hydro TS-Series
With the Mars Hydro TS-Series you have the latest development of Full Spectrum LED grow lights from Mars Hydro. The TS-Series LED grow lights are the replacement for the well known green Mars Hydro Reflector series and has as main change a more complete light spectrum. The Mars Hydro company stands for constant improvements and strives to provide the most efficient products. 

Full Spectrum with the TS Series
The design of the TS Series is relatively simple compared to previous models, in the past the focus was on appearance as well as quality. Mars Hydro now believes that the quality of the lamp comes before the appearance of the panels, for this reason the company has started to invest in optimizing the quality. The focus is now more on the light spectrum, light intensity, lifetime and efficiency of power consumption.
More complete light spectrum
The Mars Hydro TS series are equipped with white light or full spectrum, which has been proven to work better than separate red and blue LEDS. Plants need a different light color at each stage, so Full Spectrum grow lights were created to meet this need. The Mars Hydro TS-series are equipped with both 3200-4200K and 5200-6000K light colors. In addition, in these panels a number of red LEDS have been added to be able to stimulate flowering a little extra (660-665NM).
Easy to Dim
Mars Hydro's LED lights are easy to dim by means of a rotary knob. Only the TS-600 is not dimmable, the other lamps in the TS-series are dimmable. The dimmer is Mars Hydro's latest upgrade, previously the lamp had to be unscrewed to use the dimming function, Mars Hydro has now tackled this.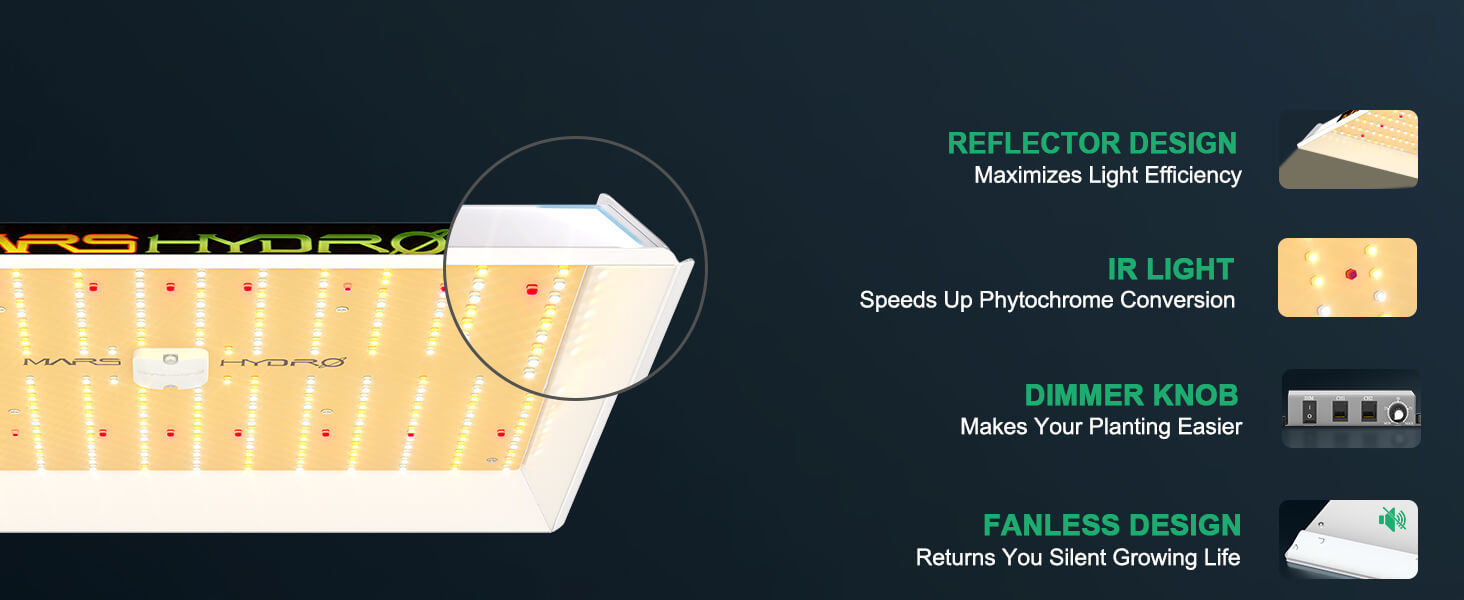 Please note! Mars Hydro we have to order separately abroad, therefore there is a small delivery time on these products.
 TS 600

Spectrum 660-665nm, 730-740nm, 3000-3200K, 6000-6500K
Power Draw: 100W ±10%
Replace HPS/HID: 150W
Max Coverage: 70 x 70 cm
PPE: 2.0μmol/J
Max Yield: 1.8g/watt
Input Voltage: 110-130V, 220-240V
Amp Draw: 1.37A/110v, 0.79A/220v
Lumen: 11465 lumen±5% / AC240V
Product Size: 356x310x360mm
Gross Weight: 2 KG
Net Weight: 0.91 KG
Noise Level: 0 DB
Heat Output: 341 BTU

 TS 1000

Spectrum: 660-665nm, 730-740nm, 3000-3200K, 6000-6500K
Power Draw: 150W±5%
Replace HPS/HID: 250W
Max Coverage: 2.5ftx 2.5ft=80 x 80 cm
PPE: 2.3μmol/J
Max Yield: 2g/watt
Input Voltage: 100-277V(AC)
Amp Draw: 1.235A/120v, 0.6223A/240v, 0.5498A/277v
Lumen: 22181 lumen±5%
Product Size: 382x336.63x54.5mm
Weight: 1.76 KG
Noise Level: 0 DB
Heat Output: 511.5 BTU

 TSW 2000

Spectrum: 660-665nm, 730-740nm, 3000-3200K, 6000-6500K
Power Draw: 300W±5%
Replace HPS/HID: 400W
Max Coverage: 4ftx4ft=120x 120 cm
PPE: 2.6μmol/J
Max Yield: 2.3g/watt
Input Voltage: 100-277V(AC)
Amp Draw: 2.451A/120v, 1.227A/240v, 1.082A/277v
Lumen: 50257Lm±5% / AC120V
Product Size: 561x499.5x68mm
Weight: 3.716KG
Noise Level: 0 DB
Heat Output: 1023 BTU

 TSL 2000

Spectrum: 660-665nm, 730-740nm, 3000-3200K, 6000-6500K
Power Draw: 300W±5%
Replace HPS/HID: 400W
Max Coverage: 150x 90 cm
PPE: 2.6μmol/J
Max Yield: 2.3g/watt
Input Voltage: 100-277V(AC)
Amp Draw: 2.550A/120v, 1.311A/240v, 1.135A/277v
Lumen: 50304 lumen±5% / AC120V
Product Size: 1018x253.32x63.8mm
Weight: 3.561KG
Noise Level: 0 DB

 TS 3000

Spectrum: 660-665nm, 730-740nm, 3000-3200K, 6000-6500K
Power Draw: 450W±5%
Replace HPS/HID: 600W
Max Coverage: 150x150 cm
PPE: 2.7μmol/J
Max Yield: 2.4g/watt
Input Voltage: 100-277V(AC)
Amp Draw: 3.868A/120v, 1.929A/240v, 1.692A/277v
Lumen: 74728 lumen±5%
Product Size: 641.5x579.2x68.63mm
Weight: 5.854KG
Noise Level: 0 DB