Description
Square plastic pot for any gardener
A black square plastic(PVC) pot for hobby growing. Useful growing pot or flower pot for your plants.
For many of us, choosing the right pot is as important as choosing the right plant. The black square plastic pot made of PVC provides an ideal medium for those who want their plants to flourish.
Features and benefits of a PVC square pot
The main advantage of PVC as a material for pots is its durability. PVC is a strong material that does not break or crack easily. This allows the pot to withstand the daily challenges of gardening, from the occasional bump to exposure to the elements.
Another crucial factor is the shape. The square shape allows for efficient use of space, especially for growers who want to place multiple pots in a limited space. This makes it easier to place the pots tightly side by side without losing much space.
Sizes and Capacity
This specific PVC pot is available in various sizes, suitable for different plant sizes and needs. From a modest size of 7 x 7 x 8cm with a capacity of 0.25 liters, ideal for smaller plants or seedlings, to a generous 36.5 x 36.5 x 36.5 cm pot that can hold as much as 30 liters, perfect for larger plants or shrubs.
This range of sizes means there is a suitable pot available for any plant, large or small. Whether you are starting to grow a small cactus or a large houseplant, there is a pot to suit your needs.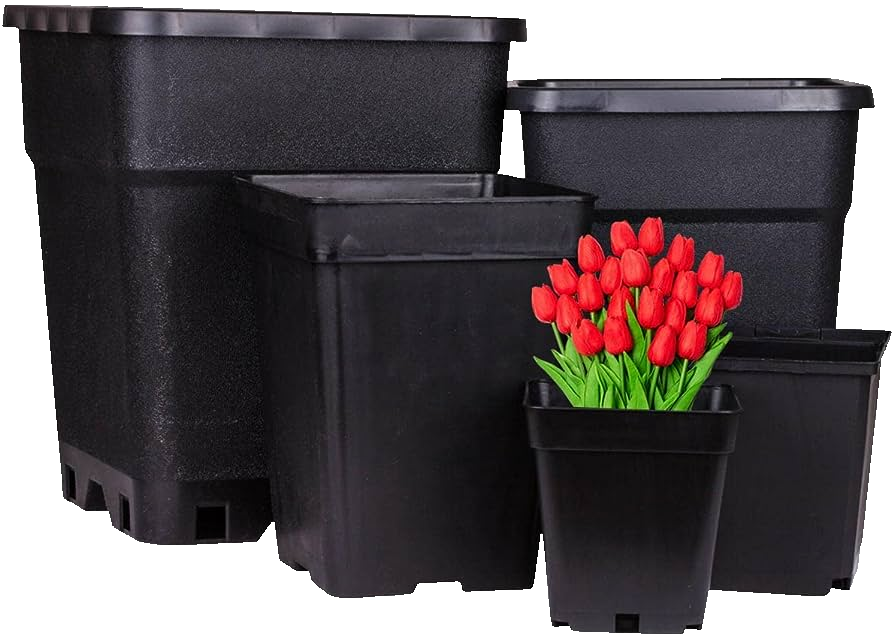 Applications
This square PVC pot is not only suitable for hobby growing. Thanks to its sturdiness and versatility, it can also serve as a functional flower pot. So, whether you want to brighten up your living room with an indoor plant or turn your balcony into a green oasis, this pot is ready for it.