Milwaukee MP815 EU Adjustable Dosing Pump
Description

BETTER RESULTS WITH THE MILWAUKEE MP815 EU ADJUSTABLE METERING PUMP
The Milwaukee MP815 EU Adjustable Dosing Pump is a sophisticated device specifically designed to regulate the pH of nutrient solutions in horticulture and hydroponic systems. This peristaltic pump comes with a range of specifications and accessories that make it an indispensable tool for hobby gardeners and professional growers alike.
Features
Starting with the technical specifications, the Milwaukee MP815 offers a metering flow between 0.0 and 2.2 liters per hour, corresponding to a range of 0.0 to 37 ml per minute. The maximum pressure of 2 bar ensures effective dispersion of the nutrient solution. The housing is made of Polipropilene (PP), a durable and chemical-resistant material, while the peristaltic tube is made of Santoprene, known for its elasticity and chemical resistance. The device operates on a power supply of 240 VAC ± 10%, making it broadly compatible with European electrical systems.
Accessories
The dosing pump comes with a set of accessories to allow for immediate and effortless installation. This includes 2 x 1.6 meter PVC glass tubing, a drain connection, and a pickup fitting with a filter and ceramic weight. A mounting bracket with kit screws and plugs allows for easy mounting to a wall or other sturdy surface.
Operation and Applications.
The Milwaukee MP815 metering pump uses a peristaltic motion to transport fluids from one place to another. This action is particularly useful for precise dosing of nutrient solutions, where constant pH levels are crucial for healthy plant growth. Adjustable dosing flow allows users to control the pH levels of their solutions with high precision. This is especially useful in hydroponic systems, where small fluctuations in pH can have significant effects on plant growth.
Conclusion
The Milwaukee MP815 EU adjustable dosing pump is an ingenious device with robust specifications and convenient accessories. It offers a reliable and accurate way to regulate the pH of nutrient solutions, making it an ideal choice for both hobbyists and professionals in horticulture and hydroponics. Its durable construction and ease of use make it a long-term investment for anyone involved in plant growth.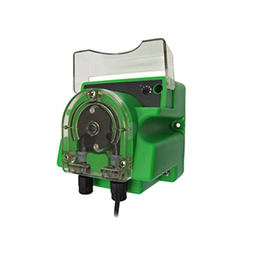 Specifications
Dosing flow 0.0 - 2.2 l / h (0.0 - 37 ml / min);
Maximum pressure 2 bar;
Made of Polipropilene (PP);
Peristaltic tube in Santoprene;
Power supply 240 VAC ± 10%.
Accessories
PVC glass tubes 2 x 1.6 m;
Drain connection;
Pickup fitting with filter and ceramic weight;
Mounting bracket with kit screws and dowels.