Description
Get better results with the Milwaukee MW10 Free Chlorine Meter
The Milwaukee MW10 Free Chlorine Photometer provides an advanced solution for measuring free chlorine in various applications. This device is particularly useful in various fields such as agriculture, aquariums, aquaculture, laboratories, water treatment and educational settings. The following highlights the key features and capabilities of this device.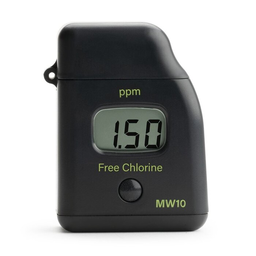 Accuracy
One of the most notable advantages of the Milwaukee MW10 is its high accuracy. With a measurement range of 0.00 to 2.50 ppm and an accuracy of ±0.03 ppm or ±3% of reading at 25 °C, this device provides results that can be trusted.
Ease of use
The device is designed for quick and easy operation. The large digital LCD display facilitates the reading of results. In addition, the design is small and ergonomic, making it user-friendly. Users need only add the reagent to get a digitally readable reading within minutes.
Reliability
The Milwaukee MW10 requires no calibration and provides reliable and repeatable measurements. This eliminates the need for visual assessments, which can often be subjective and less reliable.
Energy-efficient
This unit runs on a single AAA battery and has an automatic shut-off function to extend battery life, making it both practical and energy efficient.
Methodology
The Milwaukee MW10 uses USEPA Method 330.5. The reaction between free chlorine and DPD causes a slight pink tint in the sample, making it easier to analyze.
Consumables
Replacement reagents are available for this unit under the code Mi526-25, which simplifies maintenance and extends durability.
All in all, the Milwaukee MW10 Free Chlorine Photometer offers a reliable, accurate and easy-to-use solution for measuring the concentration of free chlorine in various applications. With its versatile capabilities and advanced technology, this device is an excellent choice for both professionals and educational purposes.
Specifications
Range: 0.00 to 2.50 ppm
Resolution: 0.01 ppm
Accuracy: ±0.03 ppm or ±3% of reading @ 25 °C
Typical EMC Dev: ±0.01 ppm
Light Source: Light Emitting Diode @ 525 nm
Light Detector: Silicon Photocell
Method: Adaptation of USEPA method 330.5 - the reaction between free chlorine and the DPD reagent causes a pink tint in the sample.
Environment: 0 to 50°C (32 to 122 °F) max. 95% RH non-condensing
Battery Type: 1 x 1.5V AAA
Auto-shut off: After 2 minutes of non-use
Meter Dimensions: 3.2 x 2.4 x 1.5 inches (81.30 x 61 x 38.1 mm)
Meter Weight: 0.14 lbs. (0.18 kg)
Packaged Dimensions: 4.53 x 4.53 x 3.31 inches (115 x 115 x 84 mm)
Packaged Weight: 0.4 lbs, (0.18 kg)
Replacement Reagents: Mi526-25 (25 tests)